ABOUT THE SHOW
The Calgary Boat & Outdoors show features boats, watercraft, marine accessories, fishing, camping, hunting and outdoor related products and services. Thousands of attendees come to this event to enjoy the latest and greatest products, along with numerous bonus presentations and features! With over 150 exhibitors and presentations all under one roof attendees can shop, learn, and be entertained.
Despite the setbacks over the last few years, we will continue to bring together the content attendees are looking for with numerous features, seminars, educational sessions and so much more!  Year after year, exhibitors report their customers are out in full force, as we transform the BMO Stampede Park into a one-stop marketplace.
EXHIBITOR CATEGORIES
Fishing: Get hooked! Recreational and skilled anglers will be coming to the show to find the gear they need to get ready for fishing season. This is your chance to put your product in front of an engaged and fishing focused audience!
Hunting: Right on Target! Visitors will be keen to start thinking about the coming hunting seasons and will be interested in the gear, firearms, archery equipment, taxidermy, guiding and outfitters – plus all the accessories to make their hunting season run smoothly. All of this and more will be at this year's show.
Boating: The Water is Waiting! The Calgary Boat & Outdoors Show is a premier selling venue for Alberta's recreational boating industry. With fishing as a major component of the show, boating is a natural fit to round out the marine needs for Alberta sportsmen and sportswomen! We bring together a variety of brands from across Alberta under one roof, for the consumers who are excited to get on the water.
Camping: The Calgary Boat & Outdoors Show already has a huge audience of both avid and pursuit outdoorsman and outdoorswoman. Whether the visitors are first-time campers or seasoned RV'ers, getting face to face with the latest gear and units will excite them for the spring ahead!
Powersports: This exciting piece of the show will bring powersport enthusiasts and attracts thousands of potential customers right to your booth. The powersport presence on the show floor rounds out everything for the outdoor enthusiasts and will "wow" attendees with a variety of exciting units including ATV/UTV, power equipment, trailers and more.
Fly Fishing: The Calgary Boat and Outdoors Show already has the key audience for this demographic, and the show is placed in the middle of some of the most sought-after fly-fishing waterways in the entire world!  We will be building on this piece of the show and look forward to opening in 2022 with a dedicated fly-fishing section to highlight this amazing Southern Alberta outdoor experience.
Cottage and Cabin Lifestyle:  Everything related to your home away from home!  All the products to make life at the cabin on the lake complete.  This is another important piece of the outdoor lifestyle that we will be building on in 2022 and beyond, targeting log home, timber frame, cabin, cottage, and country homeowners and soon-to-be homeowners.  Do not miss your opportunity to showcase your products and services in front of the largest outdoor audience in Southern Alberta!
EXHIBIT PACKAGE & PRICING
EXHIBIT LIKE A PRO!
Our all-inclusive booth package includes:
Back & side wall drapery

Aisle Carpeting

Discount Admission Passes

Forklift Services to and from your booth up to 5,000 lbs* (provided that special lifting and moving equipment is not required)

Exhibitor passes for your staff

24-hour security

Comprehensive Exhibitor Services Manual

Complimentary listing in the Official Show Guide

EXHIBIT PRICING:
Please choose the package that best suits your company's unique needs:
Standard Booth Space – 10 x 10                $1,250.00 per booth
Includes drape backdrop and side railing

Electrical and carpet are NOT included in this package
Deluxe Booth Space – 10 x 10                     $1,575.00 per booth
Includes drape backdrop and side railing

Includes 1500 watt duplex electrical outlet

10 x 10 show carpet

2 folding chairs

6' skirted table
Bulk Space
$5.05 per sq. ft. – 600 sq. ft. minimum

$4.00 per sq. ft. – over 2,500 sq. ft.

Ideal for those displaying boats, vehicles, campers, docks etc.

All bulk spaces must arrange for their own installed flooring

Note: Electrical and carpet are NOT included in bulk space
Book Space
To e-mail your Space Rental Contract, please click the "Download" button to get a copy of the contract then send it in to us using the information on the form. To fill out the Space Rental Contract online, please click the "Online" button to the right.
DATE, TIME & LOCATION
Friday, February 10
10:00am - 9:00pm
Saturday, February 11
10:00am - 7:00pm
Sunday, February 12
10:00am – 5:00pm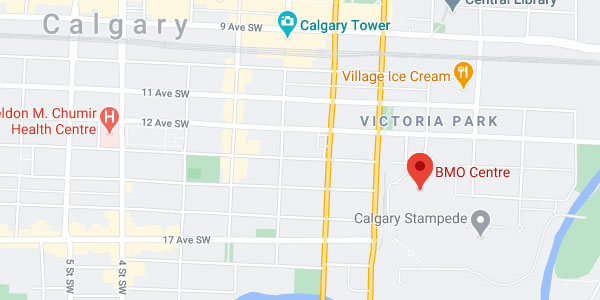 BMO Stampede Park
20 Roundup Way SE
Calgary, AB
T2G 2W1
1.800.661.1260
Exhibitor List
Adventure Destinations International
AGM Renovations
AHEIA (Alberta Hunter Education Instructors Association)
AHEIA 3D Archery Demos
Alberta Bat Program
Alberta Conservation Association
Alberta Environment and Protected Areas
Alberta Fish & Wildlife Enforcement Services - Sheriffs
Alberta Fly Fishing Adventures
Alberta Off Highway Vehicle Association
Alberta Outdoorsmen / Sports Scene Magazine
Alberta Ram Dealers
Alberta Trappers Association
Anacott Prime / Direct Energy
AQ Outdoors
Auto Marine Specialties Ltd.
Barkley Sound Lodge
Barry White's Bow River Anglers
Basecamp Motorsports
BC Sportfishing Group
Big Game Outfitters
Boats Plus Inc.
Bow River Company
Cake Bikes
Calgary ATV Club
Calgary Cycle City Corp
Calgary Fish & Game Association
Calgary Hook and Hackle Club
Calgary Power and Sail Squadron
Calgary Women Fly Fishers Club
Canadian Board Co.
CanaDream Inc.
Cobb's Adventure Park
Custom Weld Boats
Cutco Cutlery
Dear Dog Treats
EzDock Marine Systems Inc.
Final Approach Canada
Fly Casting Pond
Guns of the Golden West
Hewes Watercraft
High River Drift & Jet
Hotfire Safaris / Turnstream Ranches
Jack Carter Powersports North
Jones Boys Boats
Jr Forest Wardens
Kailani Sports Inc.
Kastelen Enterprises
Kids LIVE Fishing Pond
Leaffilter Gutter Protection
Lemon Heaven / Pucker Power Inc.
MD Marine Insurance
North Shore Lodge
Ocean Sales Group
Olnalife
One More Last Cast Fly Fishing Adventures
Optimum Paintball
Outfly Fishing Outfitters
pause4change Rescue Foundation
Pronghorn Expedition Vehicles
Quatsino Lodge Ltd.
Rahmat Cutlery
Recreational Power Sports
Redfern Enterprises Ltd.
Restomod Nation Ltd.
RH Fishing Boats
Rollers Marine
Royalty RV
Sarcee Fish & Game Association
SCI
Sea-Doo Watercraft
Select Worldwide Hunting Safari
Sequoia Supply
Shallow Water Drift Company
SKRE Canada
Stopbully.com
Tactical Innovations Canada
The Epoch Times (Calgary)
Thentix West
Thunder Jet Boats
Town of Rocky Mountain House
Township 27 Inc.
Trailrunners K9 Training Centre & Labradors
Transport Canada - Office of Boating Safety
Veterans Association Food Bank
Western Canadian Game Wardens
Wholesale Trailer & Marine
Wildrose Hunting Retriever Club of Calgary
Wild TV
Wild TV Outdoor Stage
Wilderness Family Outfitters
Woody's RV World
Woolridge Boats
World of Spas
Yamaha Watercraft
Yellow Dog Lodge
YYC Nature Centre
Zero Motorcycles